Benefit from Audi After Care in Toronto - come to Audi Midtown Toronto for all your Audi service needs!
---
Extend your warranty coverage with Mechanical Breakdown Protection.
As you know, Audis are amongst the most technologically advanced vehicles in the world. They are fun to drive and they are equipped with a very comprehensive warranty.
Mechanical Breakdown Protection is designed to take your warranty protection to a whole new level. Once your original warranty or certified warranty term expires. Mechanical Breakdown Protection offers valuable coverage backed by the strength of Audi Canada.
With genuine Audi parts and qualified technicians in our state-of-the-art service centre, you are guaranteed a timely and quality repair for covered breakdowns. Mechanical Breakdown Protection also offers valuable additional benefits to reduce the inconvenience of an unfortunate breakdown.
Our coverage extends throughout Canada and the U.S. (excluding Hawaii) and we are only a toll-free call away for customer assistance.
Mechanical Breakdown Protection is available for Audi models within 10 model years and less than 160,000 kilometres at time of purchase. There are many term and kilometre protection plans available with a deductible option that's sure to meet your needs.
Don't let unexpected repairs put a dent in your pocket. Purchase Mechanical Breakdown Protection today and have the coverage you need for life's uncertainty.
---
Maintain that new-car look for years to come.
Want to keep that pristine finish to your Audi? Wear Protection is your best choice for keeping that great-looking finish to your
new Audi car or SUV
or certified or
used Audi
vehicle for up to 250,000 kilometres. With Wear Protection, you can ensure your vehicle looks great and maintains its best value for years to come. With coverage throughout Canada and the U.S. (excluding Hawaii) you are now in even better shape from life's uncertainty.
Imagine the many reasons for Wear Protection. Life's uncertainty can come in many forms including door dings in a parking lot, rock chip to the windshield from a passing vehicle, pothole(s) from a construction site, spilt coffee, bent wheel from impact of a fallen tree limb, or a tire puncture from a nail.
Keep your vehicle in great shape and value with Wear Protection backed by Audi Canada.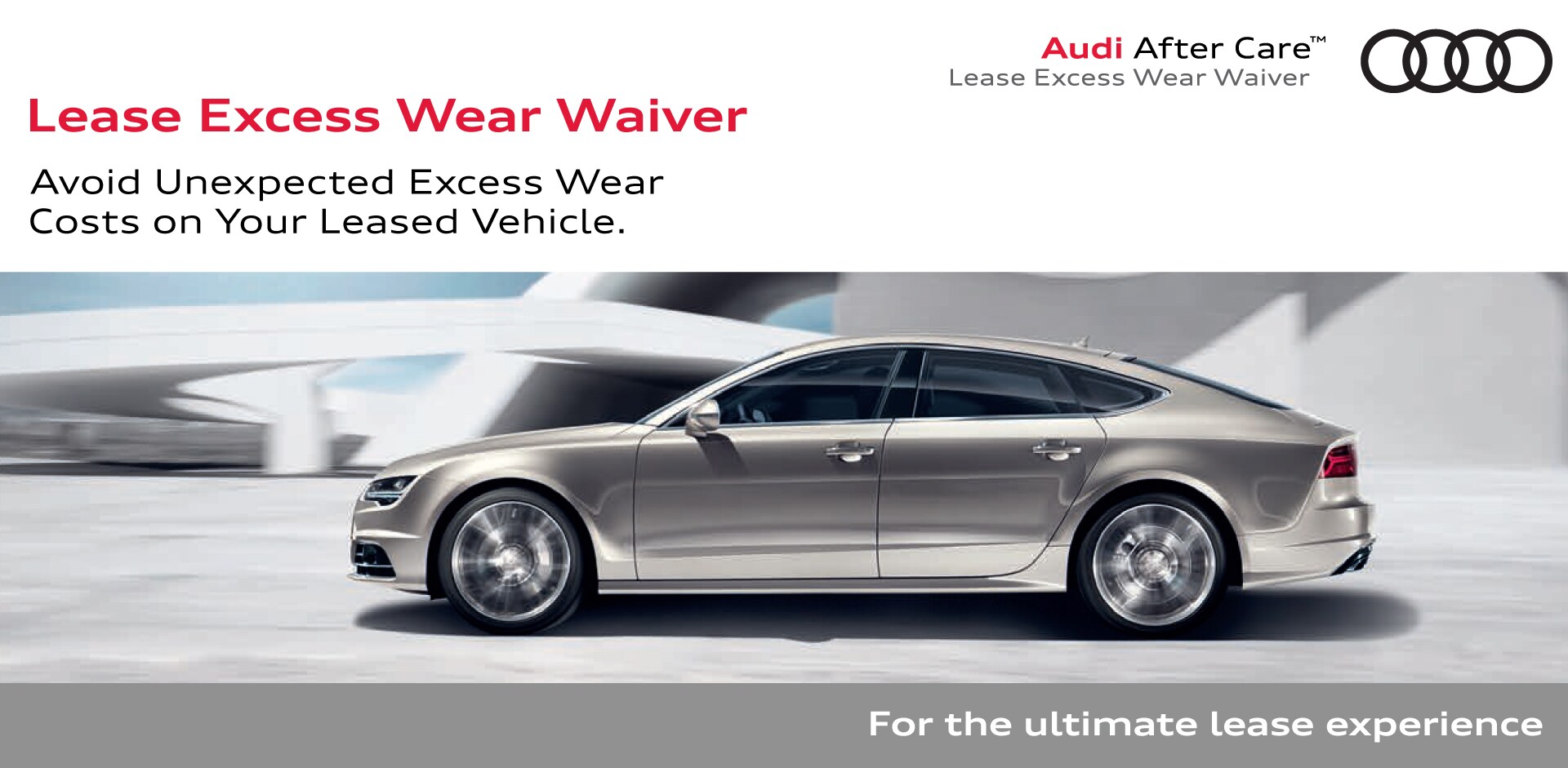 Protect yourself from common excess wear costs throughout your lease.

Leasing your new Audi should be carefree and enjoyable experience. Don't let common vehicle excess wear such as interior stains, bumper scrapes, dents and dings create additional charges to you at lease end.

Download a PDF Information Brochure
____________________________________________________________________

 F&I Managers
 Contact


  
Nadine La Calamita

Financial Services Manager
nadine@audimidtown.ca   
(416) 354-1661


  
Larry Mpilalis

Financial Services Manager
larry@audimidtown.ca   
(416) 354-1660
 
Joanna Leung

Financial Services Manager
larry@audimidtown.ca   
(416) 354-1662