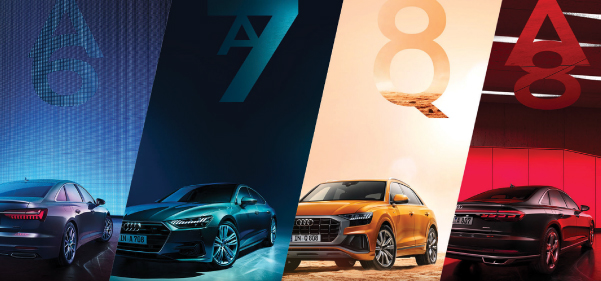 THIS IS YOUR INVITATION
OCTOBER 25TH, 2018
7pm to 10pm
A new horizon in progressive luxury is here. And you can get your first exclusive look at Audi Midtown Toronto.
The all-new lineup, featuring the Audi A6, A7, A8, and first-ever Q8, ushers in a new era of design, innovation, and luxury. Join us on October 25th to be among the first to get up-close and personal look at the future of cars.

JOIN US AT
AUDI MIDTOWN TORONTO
175 Yorkland Blvd.

Toronto, ON

M2J 4R2
CONTACT US TODAY TO CONFIRM YOUR ATTENDANCE.
THE AUDI A6

A new class standard for luxury, technology, and performance has arrived in the all-new A6, delivering ultimate driver satisfaction.
THE AUDI A7 SPORTBACK

With style and performance to spare, the all-new A7 Sportback defines a genre. Flowing lines and a sporty stance enclose a cabin rich in technology and luxury.
THE AUDI A8

The ultimate expression of design, technology, and luxury. The all-new A8 transforms not only what a car is, but what it can become.

(European model shown.)
THE AUDI Q8

Introducing the first-ever Audi Q8. A bold grille and aggressive lines form a distinctive new exterior, while advanced technology ensures it drives as good as it looks.

(European model shown.)