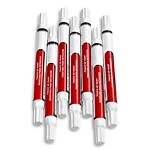 When a sharp object scratches your car, you can eliminate the flaw with touch-up paint. The time that it takes to complete a job varies depending on the scratch. Minor scratches can be corrected quickly, and intense scratches will require a lot time and patience.
After a vehicle is scratched, you must prep the finish for new paint using sand paper. A 220-grit sheet is a practical starting point for a minor scratch. If your vehicle has rust around a scratch, a higher-grit sand paper is a more suitable option. After the metal is exposed, you'll need to apply a new coat of paint that matches the factory paint. To ensure accurate results, research your automobile's factory color code. This code is used by manufacturers when they pick paint shades for their automobiles.
These strategies can help you correct scratches on your automobile. If you need help along the way, great touch-up options are available at Audi Midtown Toronto.